Web development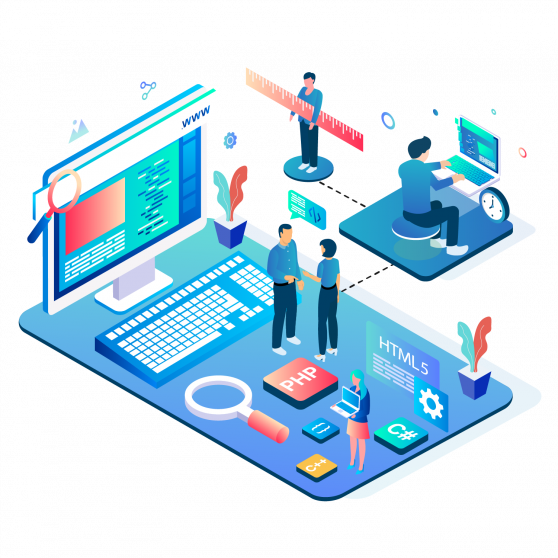 Inside Creative develops websites for small and large companies using WordPress. If you need a modern web application we use Laravel. Our developer has been producing websites for more than 20 years.
We want to be the preferred web agency for small and large companies that need a website. If you choose us to develop your website, we will do what we can to make your organization as visible as possible online. Our vision is to make our customers visible.
The first website we developed for a customer happened at the end of the 1990s. The client was Café Guiden and was a website with more than 100 pages that were all created manually. Since then, we have developed dynamic websites for customers in various industries.
Because we have been involved since the beginning, we have seen trends come and go. We keep an eye on these so that we can always recommend what is most modern right now.
Building your own WordPress theme
Inside Creative builds websites from scratch. We mainly use WordPress. We can use other solutions as well, but in most cases WordPress will do the job for you. For you, this means that the pages are often faster than if we had used a template or template plugins that exist for WordPress.
Because we have been involved for so long, we have tested various publishing systems. We have ended up using WordPress as our system of choice. This after considering Joomla, EzPublish (Norwegian) and Drupal.
For professional players who want to start an online newspaper, we recommend Superdesk from < a href="https://www.sourcefabric.org/" target="_blank" rel="noreferrer noopener">Sourcefabric combined with either a special solution we can develop for you, or a newspaper-inspired template we can develop for you. Superdesk is used by several major news agencies around the world, including Norwegian NTB. p>
Holistic web development
When we build websites for our customers, we think holistically – what should you communicate to your customers/visitors. Which keywords should lead to increased traffic on your website. Which pages should ads on Google and similar search engines hit on your website.
In terms of appearance, it is important that your website does not differ from how your company markets itself externally.
We use our long experience when we develop your website.
Technologies we use are:
PHP (Laravel / WordPress) , Microsoft .Net (C#/VB.Net), SQL databases (MS SQL, MariaDB/MySQL), Search technologies (Elastic Search), Cache solutions (Redis) just to name a few.
Inside Creative is based in beautiful office premises in Mysen in Indre Østfold municipality in Viken county in Norway. From here we serve customers from all over the world.