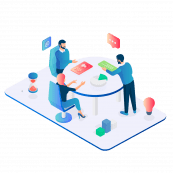 We think holistically from the start. Be it if you contact us to create a new logo, a new website, start with search engine optimisation of your website, or start a marketing campaign.
The process with us starts with getting a structure. Be it creating a site-map, getting an overview of how your logo should be used, finding out which keywords work and do not work against your website.
Although our company is young, our experience is very mature. Our web developer has been creating websites since the start of the commercial internet in the mid 1990's. Websites have been searched on everything from yesterday's search engines to today's Google, Yahoo or Bing. Our graphic designer has worked professionally with branding for ten years. Our copywriter is a former journalist and interested in language. Our photographer also has a press background.
When your company chooses us, you have the opportunity to use all the expertise this company has. We will work on your product until you are satisfied.